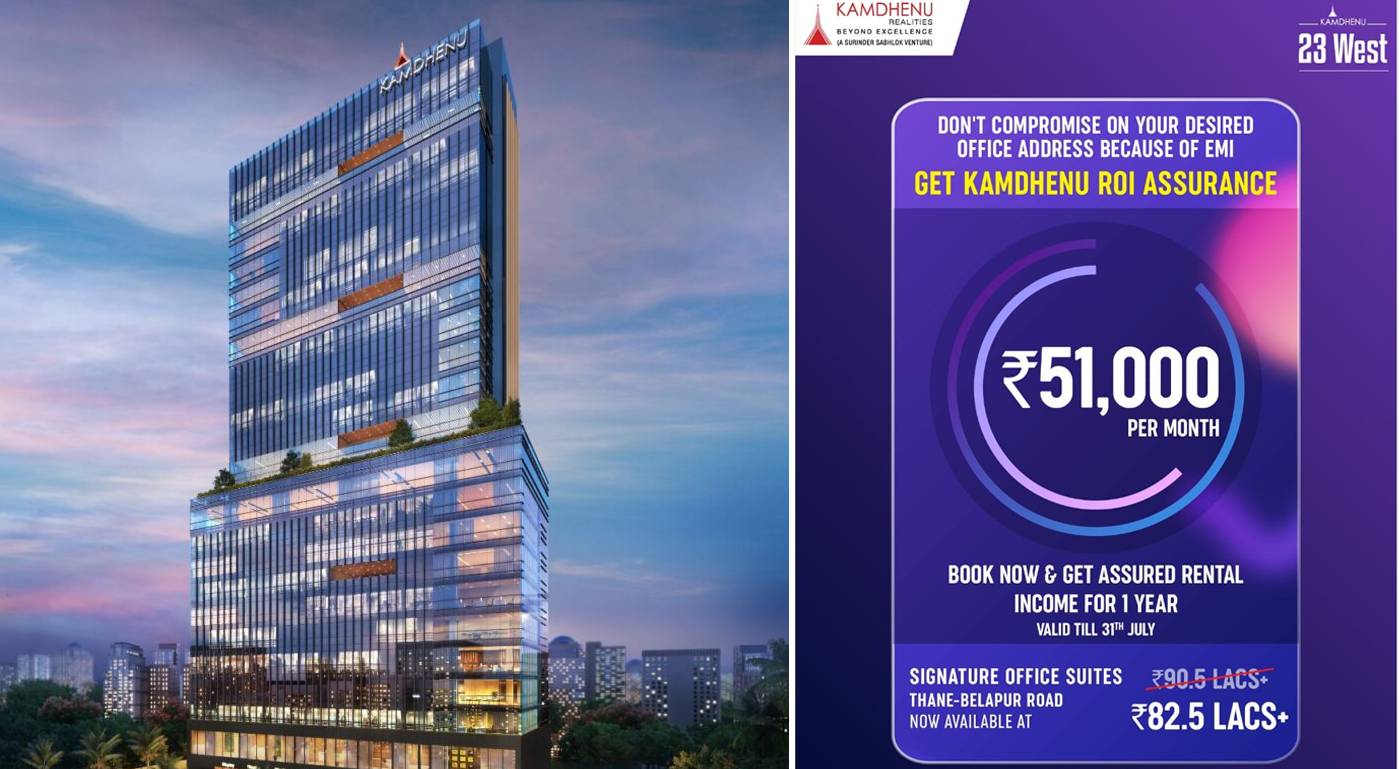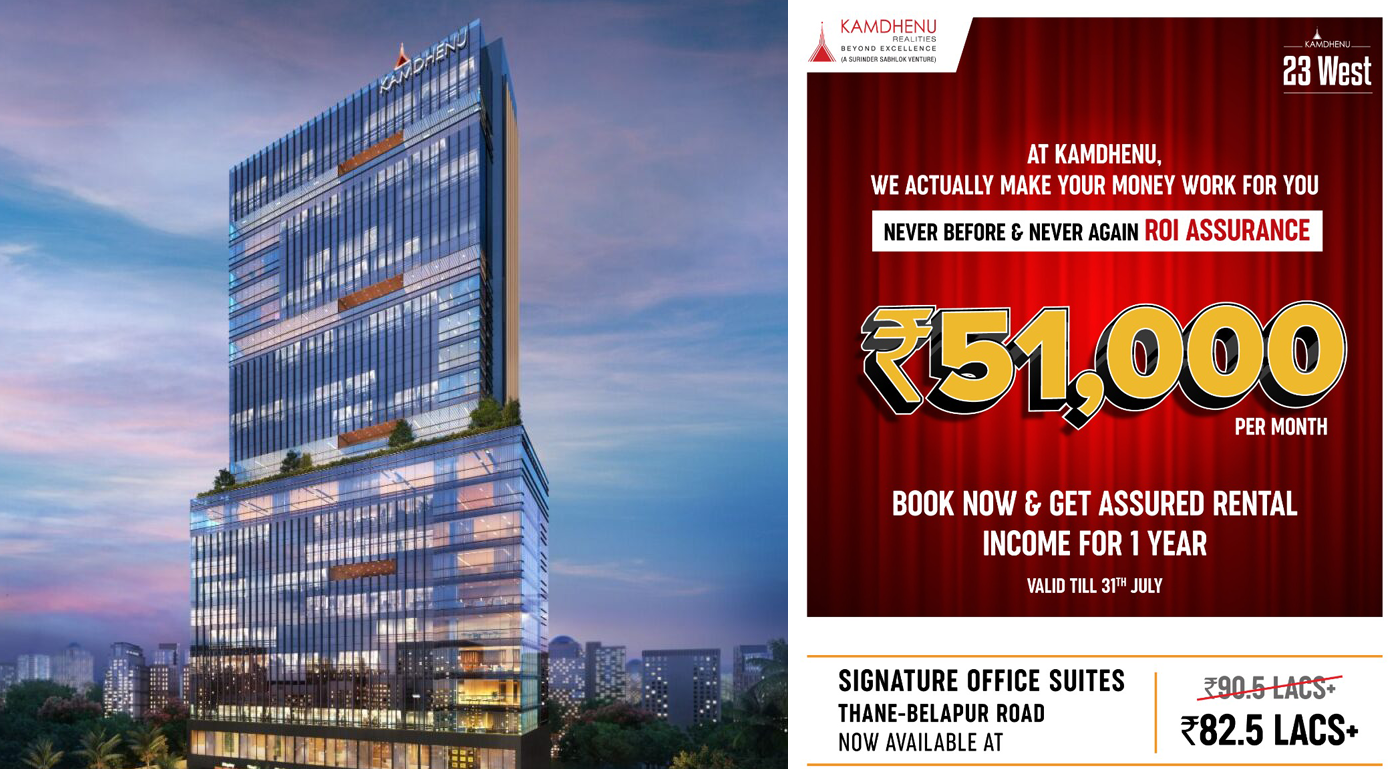 BOOKING OPEN FOR OFFICE SPACES
kamdhenu 23 west
At Thane Belapur Road
by Kamdhenu Realities
kamdhenu 23 west
At Thane Belapur Road by Kamdhenu Realities
✓ Configurations

: On Request

✓ Location

: Thane Belapur Road

✓ Price

: ₹ 82.50* Lakhs onwards
Warm shell Office Space options
Assured Rental Rs.51,000/- pm
For 1 Year

Possession : Nov, 2024
Navi Mumbai's Landmark Commercial Development with
HIGHER RETURNS
Compared to Residential Properties
Starting from : 82.50 Lac*
MahaRERA Reg. No. P51700025164
Pre-Register here for Best Offers
Overview
kamdhenu 23 west
At Thane Belapur Road
Kamdhenu 23 West in KOPER KHAIRANE is a Commercial development in Mumbai . It offers warm Shell offices. 23 West – Your New Landmark Business Address. Lavish commercial office space coming up in Kopar khairane with superb amenities & connectivity.
Kamdhenu 23 West KOPER KHAIRANE has Office in KOPER KHAIRANE. The project Kamdhenu 23 West KOPER KHAIRANE is well equipped with all modern amenities and 24X7 security service to facilitate the needs of the residents. Kamdhenu 23 West KOPER KHAIRANE offers competitively priced apartments to those looking for a stylish and classy lifestyle.
KOPER KHAIRANE gives high on connectivity and convenience as well and the finest standalone tower. Kamdhenu 23 West KOPERKHAIRANE is Conveniently connected by Eastern Freeway, Monorail, and upcoming KOPERKHAIRANE. Near Kamdhenu 23 West KOPERKHAIRANE positioned in close proximity to major IT campuses, your workplace could be just a stone's throw away.
A breath of fresh air in the city of KOPER KHAIRANE may be a luxury for others. CODENAME PROFIT KOPER KHAIRANE desired to like at any rate to very grateful work. such as the work is efficiently that configured work to perfect. Kamdhenu 23 West KOPERKHAIRANE every residence is a treasure. A treasure that you will cherish for a lifetime.
Modern life standards have sufficient green trees and parks. The exterior of Kamdhenu 23 West KOPER KHAIRANE homes has been coated with a plastic emulsion that lasts for a long period of time. Kamdhenu Realities is trying to take inspiration from this project to make good homes for its residents.
About Kamdhenu Realities
In its long tenure, the group has been crafting exceptional quality living and commercial edifices. The company nurtures and develops every project with the utmost carer. In addition, the company aims to grow and diversify. This is evident in the company's eagerness for finding new challenges that bring out the best in the team. Apart from taking care of their ambition, the Company makes sure that their corporate social and environmental responsibilities are taken care of. What's more, Kamdhenu always keeps its promise of high quality and timely delivery with every project. Which is why, better lifestyle, world-class quality and vibrant edifices have now become a part of their identity.
---
Project Highlights
✓ HIGHER RENTAL YIELDS, CAPITAL
✓ APPRECIATION AND EXPONENTIAL RETURNS
✓ OWN IT!
✓ Price Benefit
✓ Rental Yields
✓ Over residential assets in TTC Industrial Area Koparkhairane
✓ Capital Appreciation
✓ As compared to residential assets
✓ Investment Benefits
✓ Ideal hotspot for unbeatable capital appreciation
✓ Exponential return on investment
✓ Stable earning power
✓ Well-known brand
✓ Offers smart-sized offices, the best investment opportunities today
✓ Flexible sizing options, ideal for a wide range of businesses
Project Video
Gallery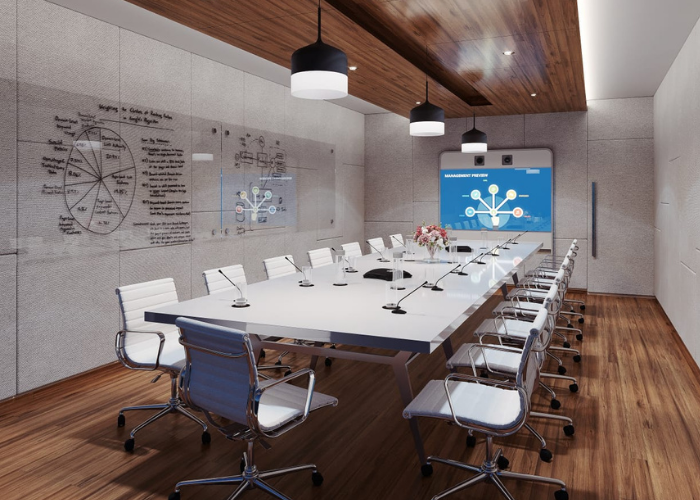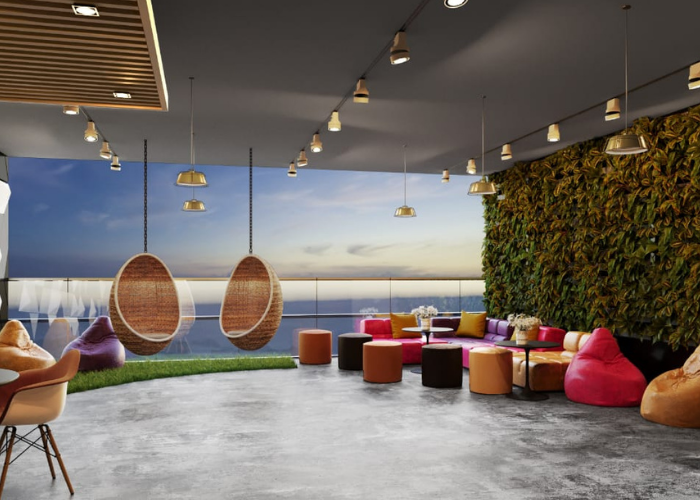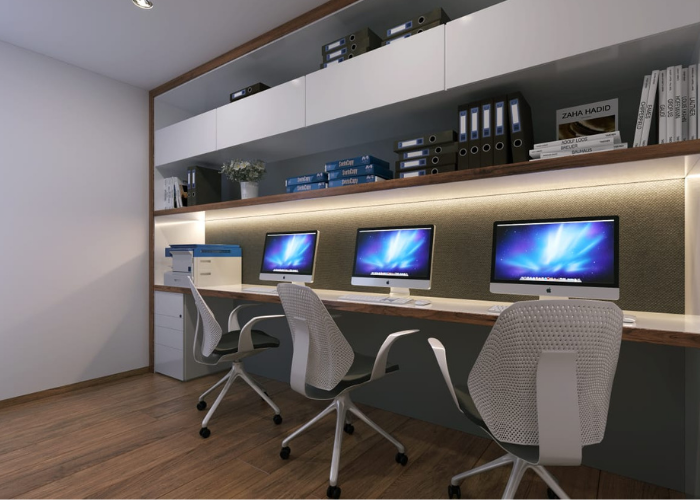 Location
Location Map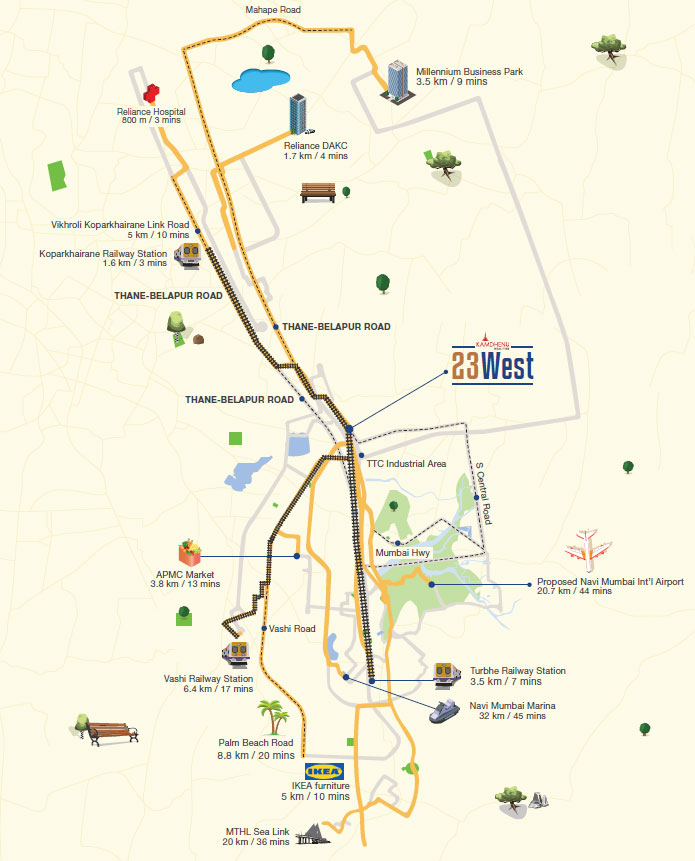 View Location Map
For decades, the TTC Industrial Area Koparkhairane has witnessed the growth and transformation of various industries.
Today, it plays a very important role in Navi Mumbai's business environment. Now, IT holds the title of Commercial HQ of Navi Mumbai.
It was anticipated from the time when the established hubs of Vashi reached the saturation point.
In addition, this natural extension of Vashi excels in infrastructure, connectivity, access to the supply chain,
customer and new clientele as well as proximity to prime residential hubs.
Being well connected to Thane, Central Mumbai and Panvel, the perfect bridge between
Navi Mumbai's key hubs of the past and the high potential nodes of the far future.
Coupled with the promise of an immediate infrastructure explosion and the upcoming
international airport, this prime location is the most sought after by businesses
---
Koparkhairane Benefits
Mushrooming of IT giants in the vicinity
Focus on commercial projects
Rising demand for new office
FAQs - of kamdhenu 23 west At Thane Belapur Road
Faq
Q What is the pricing of kamdhenu 23 west?

Ans: The price of kamdhenu 23 west starts at ₹ 82.50* Lakhs onwards.

Q Will/Is kamdhenu 23 west RERA registered?

Ans: Yes, kamdhenu 23 west will be / is RERA approved project.

Q What is location of kamdhenu 23 west?

Ans: The kamdhenu 23 west is located at Thane Belapur Road.

Q What type of room configurations available in the project?

Ans: Room cofigurations information of kamdhenu 23 west is coming soon.

Ans: The property market of Mumbai & Navi Mumbai offers property for sale in new residential projects in high-rise towers in all budgets whether Pre-Launch Projects, under construction, ready to move in (RTMI) or nearing possession. Whether it is for self-use or investment property requirements, we strive hard to provide the best offers on the best 1 BHK flats, 2 BHK flats, or 3 BHK in Mumbai, Pune, Thane, KDMC Area, and Navi Mumbai.
Flats for sale in New Construction in Mumbai, Pune, Ghaziabad, Thane, KDMC Area, and Navi Mumbai are on offer under construction project and with us you can browse affordable apartments/flats in new projects in Mumbai and other locations for sale in top upcoming projects in Mumbai and other nearby locations, along with current projects in Mumbai, Thane, and other nearby locations.
Get the best deals on residential projects in the real estate market. Select offers and deals on new projects. Check out affordable housing properties / flats of 1 bhk or luxurious 3 bhk flats by top developers under construction projects.
Find projects that include amenities like car parking, a children's play area, a swimming pool with a higher carpet area and are strategically located within close distance to top schools, malls, hospitals, and parks.
Organize Site Visit
Send us Whatsapp
Pre-Register here for Best Offers
Call Us : +91 9137458691
✓ Configurations

: On Request

✓ Location

: Thane Belapur Road

✓ Price

: ₹ 82.50* Lakhs onwards